Simple Gutter Leaf Protection
These durable brushes provide an effective barrier against gutter clogs by trapping leaves but allowing water to flow freely into the gutter.
LeafBlox brushes are a simple to install, low maintenance gutter protection solution. Trapped leaves decay or simply blow away because they are held above the gutter. They also eliminate many of the hassles of other systems and can be used with almost every variety of gutter and roof types. LeafBlox keeps debris out while allowing a maximum opening for water flow.
STOP WORRYING ABOUT GUTTER CLOGS.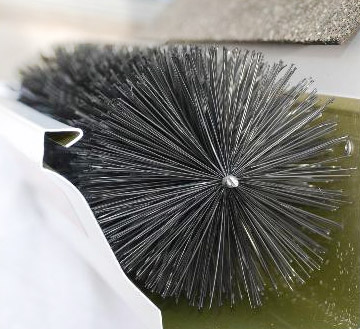 ---
Six Reasons People Choose LeafBlox
Affordable
Complete LeafBlox coverage costs a fraction of what you would spend with alternative rain gutter protection systems. You'll save on install costs as well.
Effective Barrier
The thick bristles provide 360-degree internal protection to block leaves, branches and other debris. They also help block other potential issues, like nesting birds or insects, squirrels etc. from getting into your rain gutters.
Simple To Use
Bend each section to easily adapt to any rain gutter shape or corner. The stiff bristles of the LeafBlox gutter leaf guard protect your rain gutters, allowing water to flow through its intended path, without complicated tools or shaping.
Easy to Install
Fast & Simple! No nails, cutting, drilling, or tools required. At the end of a rain gutter section, just fold any extra gutter guard brush length back into itself and stuff into the rain gutter!
Versatile
LeafBlox can be used with any residential or commercial roofing system or rain gutter type: Slate, Copper, Cedar, PVC, Tile, Aluminum, Rubber, Wood.
Ice Protection
The black UV protected polypropylene bristles absorb heat on sunny days and may help promote early ice melt. If you are currently using rain gutter heater cables or coils to help prevent ice buildup, these will not have any adverse effect on the LeafBlox Gutter Guard.
LeafBlox Products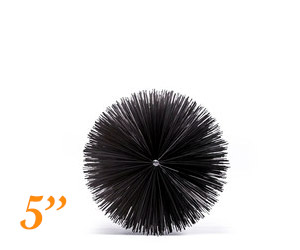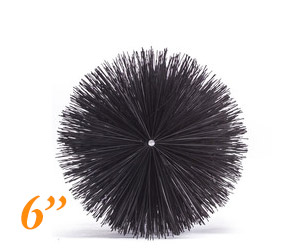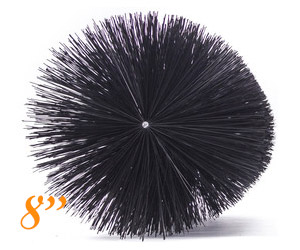 ---
We've had these on our house for a year and they are everything promised. Installation was a breeze. Only problem we had was we choose a freezing cold day. Simply because we wanted to get them right up. Hubby was trying to make a big production out of the instal as he couldn't believe it could be that simple. It's been a year now and they work perfectly. I'd recommend them to anyone. How happy am I that my husband no longer has to get up on the ladder and do the gutters? VERY HAPPY.
-Madeline Washington (Pennsylvania, USA)
Being a bit skeptical, I ordered 30 feet of LeafBlox to test. During a major storm which dropped over 3.7 inches of rain, I observed that my gutters clogged and overflowed except for the section where I had installed LeafBlox. I was so impressed that I immediately ordered a full box to finish off the rest of my gutters.
-Ted Williams (Grantsburg, WI)
"First of all, thank you for offering a product that has provided a value to me that surpasses the price I paid. We've gone around and around with clogged gutters for 20 years in our home. Several large trees in our backyard contribute to a constant barrage of debris with a huge oak right next to the house being the most egregious offender."
Got my LeafBlox just in time as you can see from the pics of the maple seeds caught near the top of the brush. Rained all day yesterday and water is still flowing through the gutters and downspouts. Thanks for a good product at a reasonable price. I hope to sell a few feet of it to my neighbors when I see them o­n their ladders cleaning their gutters.
-Mike Cooper (Murfreesboro, TN)
---
Frequently Asked Questions
What About The Alternatives?

1. Do Nothing - The option of doing nothing will likely result in expensive damage and repairs. Clogged gutters may cause costly damage to homes, such as: rotting fascia boards, water damage to interior walls and ceilings, surface erosion around the home, wet basements, and cracked foundations.

2. Regular Gutter Cleaning - Cleaning gutters can be dangerous, especially when working from ladders or on the roof.

3. Gutter Covers - Covers reduce the size of gutter opening, sometimes affecting flow. Covers also reduce or restrict access to gutter interior, which makes maintenance or cleaning almost impossible without removal of system. Some covers even create a haven for nesting bees or insects.

4. Gutter Screens - Screens frequently clog and collapse and may be difficult to maintain and clean. Trapped debris is usually more visible from the ground.

How can the LeafBlox Gutter Guard be so effective and inexpensive at the same time?

LeafBlox utilizes a simple design, which greatly simplifies the manufacturing process and ease of use resulting in a high value for the customer. The LeafBlox Gutter Guard can be installed quickly and hassle-free, with no complicated assembly or tools required. This means the LeafBlox can be purchased and installed for a small fraction of the cost of other, more complicated rain gutter protection devices. Plus, if the LeafBlox Gutter Guard ever requires maintenance, the system is easily and quickly removed and re-installed with no damage to your valuable home.

How do I know what size of LeafBlox Gutter Guard I need?

Measure your rain gutter opening from the back of the rain gutter to the front lip: 5 inch = Standard, 6 inch = Oversized.

Will I still need to clean my rain gutters or the LeafBlox Gutter Guard after installation? If so how do I clean them?

If you ever need to address gutter debris or a trouble spot, cleaning your rain gutters is as easy as removing a section of the LeafBlox Gutter Guard and giving it a quick shake. Clean the gutter if needed and then simply replace that length of brush.
Toll Free:800-766-5291
Phone:717-697-1900
Fax:717-697-2452
LeafBlox
Mailing:1405 Brandton Road Mechanicsburg, PA 17055
Warehouse:671 Willow Street Lemoyne, PA 17043